Here's an interesting way to kill a few minutes. This test will tell you how fast you read on an e-reader. I only scored 342 words per minute, which isn't very fast (...equal to 11th grade students, which is really disturbing considering many of them HATE to read).
I think I had test anxiety...
and my eyes are tired and full of pollen...
and I'm in the same room as a distracting 4 year old...
and I have undiagnosed adult onset ADD.
The good news is that, if I could sustain this reading speed, I could read: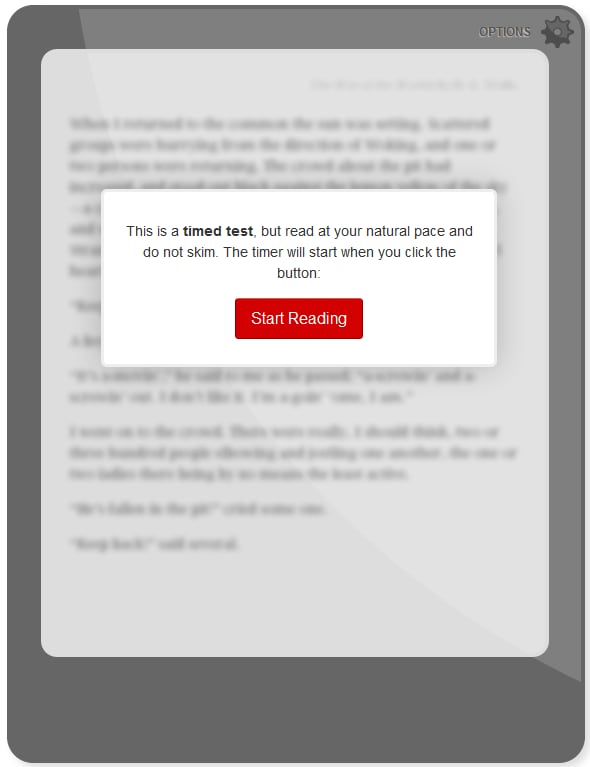 War and Peace
by
Leo Tolstoy
in
28 hours and 37 minutes
Harry Potter and the Sorcerer's Stone by

J.K. Rowling

in

3 hours and 45 minutes
The Lord of the Rings by

J.R.R. Tolkien

in

23 hours and 19 minutes
Catch-22 by

Joseph Heller

in

8 hours and 30 minutes
Nineteen Eighty-Four by

George Orwell

in

4 hours and 20 minutes
The Fountainhead by

Ayn Rand

in

15 hours and 11 minutes
The Grapes of Wrath by

John Steinbeck

in

8 hours and 16 minutes
Last of the Mohicans by

James Fenimore Cooper

in

7 hours and 5 minutes
A Tale of Two Cities by

Charles Dickens

in

6 hours and 36 minutes
The Adventures of Huckleberry Finn by

Mark Twain

in

5 hours and 20 minutes
Wuthering Heights by

Emily Bronte

in

5 hours and 16 minutes
To Kill A Mockingbird by

Harper Lee

in

4 hours and 50 minutes
The Catcher in the Rye by

J.D. Salinger

in

3 hours and 35 minutes
The Color Purple by

Alice Walker

in

3 hours and 15 minutes
All Quiet on the Western Front by

Erich Remarque

in

3 hours and 1 minute
Lord of the Flies by

William Golding

in

2 hours and 55 minutes
Alice's Adventures in Wonderland
by
Lewis Carroll
in
1 hour and 17 minutes
The Wonderful Wizard of Oz
by
L. Frank Baum
in
1 hour and 55 minutes
The War of the Worlds by

H.G. Wells

in

2 hours and 57 minutes
The Bible in

37 hours and 54 minutes
I guess that's good news. I've read many of these books and I'm pretty sure it took me a LOT longer. A whole lot longer.
Click on the above picture and take the e-reader speed test provided by Staples.
Read normal (no cheating!).
Leave me a comment telling me how you did.
I bet you read faster than me, but you can't love reading any more than I do (even if I am a slow poke).
--Renee--